How We Design Your Home
We Design The Whole Project
Not Just The House
The Liberty design process is a very professional, fun, and rewarding process that we have developed after many years of trial and error.
Not only does the basic home itself need to be designed, but there are many other plans related to building a custom home project. There are numerous site development plans that must be created, and in conjunction with designing the house. Many buyers do not realize the need for these engineering documents. Look further down into this page to learn more about these types of plans.
There are many interior/individual rooms and aspects that need to be considered and designed for a true custom home. Our design process is very organized and is guaranteed to be second to none. There are many elements to this phase to include:
Basic Home Design ~ Kitchen Design ~ Bath Design ~ Faux Painting ~ Theatre Room ~ Wet Bars ~ Electrical ~ Lighting ~ Flooring ~ HVAC ~ Interior Rooms ~ Marble/Tile ~ Closets ~ Landscaping ~ Site Plan ~ Decks/Terraces ~ Outdoor Kitchens ~ Driveways ~ Walkways ~ Swimming Pools
We have developed a highly organized process that works in partnership with many professional and award winning designers that will work with our clients at various times throughout the project to produce the designs that are needed in the many different parts/phases of a true custom home. Many of these designers perform these services free of charge to Liberty clients as a part of the agreement we have with them.
The Home Design
Regardless as to whether you already have blueprints or need blueprints, we have the tools and the experience to get the project started off in the right direction. We will work with you every step of the way to make sure you get exactly what you want out of your new custom home. We are design/build specialists, with many years of experience in producing amazing results from the information provided by our clients.
So you already have blueprints.

That's great! We will review them to make sure they are 100% complete and ready to use for your new custom home project.
Do you need any changes?
Do we have any suggestions?
Can we get a building permit?
If the blueprints require additional pages of information or if they simply need a few minor adjustments, we have relationships with local architects that will perform the work for very reasonable fees. These same architects extend "special" pricing to Liberty clients.
If you have purchased blueprints from a magazine or from an internet source, these same local architects will work with Liberty clients to modify the blueprints as needed. Usually these types of blueprints offer great basic designs, but are not complete enough to obtain a building permit here in this region.
So you need to start from scratch
No problem. We will first sit down and interview you to determine our next course of action. More than likely, we will ask you to review blueprints from national architectural firms. Sometimes we can help you purchase amazing designs that have been developed by very reputable architects, with whom we have relationships with.
These "stock" blueprints come from architects that may or may not have actually had these houses built. Often, these are designs that have not yet been built anywhere. But regardless, this is a very cost effective way to obtain great designs of true custom homes. We can use these plans as is, but we usually modify these plans to suit your specific needs. Most times, these types of blueprints will need additional information in order to obtain a building permit. Again, our local architects will provide these types of services at really great prices.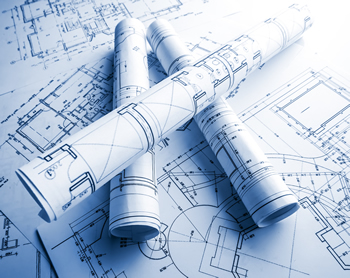 Stock Blueprints Don't Seem to Work
That's fine. We will introduce you to a few local architects with whom we have relationships with, and we will work with you to decide which architect seems right for your specific needs.
Once we have selected the architect for you new custom home project, we will then review your specific needs and desires. Your sketches, ideas, pictures, even drawings on napkins, will be taken into consideration during this process.
We will have multiple design meetings that will usually start with the floor plans, and then move forward onto the elevation drawings. These design meetings are usually very fun and rewarding as we explore the various possibilities that can be used in your new custom home. This process can take anywhere from 3 to 6 months depending on the size and complexity of the project.
Site Development Plans
Depending upon the location of your project and the governmental regulations, there are various other documents that you will need to have created that have nothing to do with the blueprints, but are equally important and are required in order to receive a permit.
* Site Plans
* Storm Water Management Plans
* Sediment Control Plans
* Landscape Plans
* Conservation Plans
* Buffer Management Plans
All of these are examples of the various plans that may be required in order to receive a building permit to build the project. We manage this entire process in order to ensure that everything works out in regards to the budget and in conjunction with the blueprints.
The approval process for these plans can be very demanding and the various comments and requirements from the various government agencies must be met. Liberty has the experience and has built relationships with many of these agencies and this goes a long way towards keeping things running smoothly.
Now We Have the Blueprints
Once we get to the point where we are comfortable with the blueprints we have created, we will then take certain precautions to insure the design is 100% safe and reliable. We will send the blueprints to our structural engineer who will review the blueprints and provide comments about beam sizes and other elements of the project. Once this structural review process is completed, this engineer will place his professional seal on the drawings that shows the drawings are structurally sound.
This structural review process is not performed by all custom home builders, but is performed by quality and experienced custom home builders who are looking to provide the most superior service possible to their clients.
Custom Kitchen Designs
The next step in our custom design process brings us to the exciting process of designing the kitchen and bathrooms within the project. We will use the services of design professionals who will work with you on a very personnel level.
Our kitchens are designed by professional kitchen designers who will introduce you to every manufacturer and style of kitchen cabinetry and appliances that are available in America today. They will work with you on the designs of the kitchen, bathroom vanities, wet bars, and outside cooking centers.
You will have the opportunity to learn all there is to know about every appliance that is available and make your own decisions as to which brand of appliances to use in your new custom home. Our kitchen designer will work with you at their showroom, which contains many different kitchens that are complete with appliances.
You will learn about the various cabinets and features that are available and be able to make all the decisions that will turn your kitchen into a true gourmet cooking center. The decisions you ultimately make for your custom home will depend upon many variables that will be clearly explained to you. Your custom designed kitchen will take size and cost into consideration, and no matter how big the size, it will be truly functional for your family's needs. The cost of your kitchen is below retail, as the pricing you receive from our partners is true builder cost. These costs will be built into your construction budget, taking affordability into consideration at all times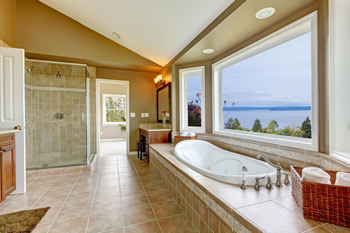 Custom Bath Designs
Now we move onto the bathrooms, and this design is generally focused around the marble or ceramic tile designs, as well as the various faucets, bathtubs, and shower equipment that is used throughout the project. The room that seems to get the most attention is the Master Bath area. This professional designer will work with you to pick out all of the plumbing related items in the home. Again, you will learn about every modern, state of the art faucet, bathtub, toilet, and shower mechanism's in the country.
The ceramic tile or marble work will be carefully planned and sketched out in a manner that you will understand and approve of. Cost regards are kept in mind throughout the process.
This designer will work with you to select these items and to do so within a reasonable budget. Your master shower could contain multiple shower heads, body washes, and even a steam mist unit. Your Master Bathtub could contain either water or air jets, with an in line heating system that keeps the water warm during the time you are using it. The possibilities are endless.
Special Design Needs
Now we will move on to the design needs of your new custom home, in areas that apply to your project, that need to be designed sooner than later. Theatre rooms are an example of this area and we have excellent professional designers that will design this space around your budget.
Down the road, after the construction process begins, we will work on designs for various phases such as the electric design, HVAC design, and exterior landscape design. All of which we have professional designers for that will provide the same free design services as with the other phases we have covered.
Another example is the marble and ceramic tile to be used in your new home. The various rooms and areas to receive these materials will actually be designed by a professional designer that will work with you in their showroom and show you materials that are available from all over the world. These designs will be created around our budget and will take many things into consideration. Foyers, Kitchen/Bathroom Floors, Hall Ways, all will be carefully planned.
---
''The Liberty Way''
An Information Booklet
Liberty has prepared a special booklet entitled ''The Liberty Way'' that outlines our systems and how they are different from other builders in this region. It shows how our detailed design- build systems work to benefit your custom home project in many different ways.
If you would like to receive a copy of this booklet you can contact our office and we will bring you a copy when we come to meet with you.

Our Promise
Our promise to you and to your family is to first work in partnership with you and your architect, to create an amazing design for your new custom home. Then we will build it on time, within budget, and at a level of quality and craftsmanship that is truly magnificent.
As a family owned and operated company, it will never be our goal
to be the biggest custom home builder.
But it is most definitely our goal to be the best.