Green Building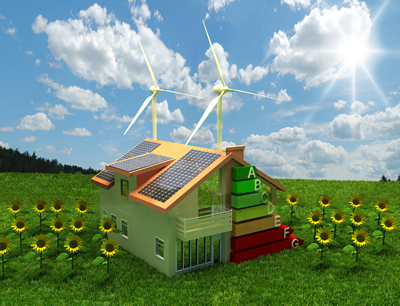 You Decide How Green Your Custom Home Will Be.
There is no need to go broke doing it.
We realize the importance of this aspect towards custom home building, and as a leader in this industry, we are learning all we can and how we can apply green building technologies and products to our systems.
                                                
Depending on the level you wish to achieve and the money you want to spend towards this goal, we will work with you to achieve your goal. Simply put, a green custom home can be built to include a smart design, certain technology, and construction elements to reduce the negative impact that building a home has on the environment.
There are available incentives in the form of tax breaks from the federal government and many local and state governments. A green home should use less energy, water, and natural resources in it's construction process, as well as after it's completion. Thus creating a healthier environment for the people living both inside it and around it.
There are all sorts of green building applications to consider and here are a few that we feel are very applicable to a new custom home project, and are useful ways of going green, without going broke.
The Building Design
The home could be oriented on the lot so as to bring abundant natural daylight into the interior to reduce lighting requirements and to take advantage of natural breezes.
The Home Exterior
The new custom home project could include certain screening devices and shades to block the hot summer sun. The use of trees to help screen the house is best. The roof should be a light colored, heat reflecting material.
Windows and Doors
The windows and exterior doors could have energy star ratings, and they should seal their openings tightly to avoid heat gain in the summer and heat loss in the winter.
Water Efficiency
A green custom home could have a water conserving irrigation system and water efficient kitchen and bathroom fixtures. A rainwater collection and storage system would be ideal.
Landscaping
Yards can be landscaped with drought tolerant plants rather than water guzzling plants. The use of boulders and gravel in landscape designs works well.
Indoor Environmental Air Quality
Natural daylight should reach a large percentage of the home's interior. Natural ventilation should bring lots of fresh air into the home. The HVAC system should filter all incoming air and vent stale air outside. The garage should not have any air handling equipment or return ducts but should have it's own exhaust fan.
Waste
A custom home owner can develop a recycling program by consulting area recycling centers and municipal waste authorities to determine which materials can be recycled and what type of system will work best.
Basic Green Building Materials
A custom home could contain various green building materials that contain various salvaged or recycled materials such as:
Low or zero voc (volatile organic compounds) paints and sealants
Non toxic subfloor materials
Recycled decking materials
Recycled framing lumber
Specially designed roof coverings
Oriented strand board (OSB) for wall sheathing purposes
Natural carpet made of undyed wool
Polypropylene water supply piping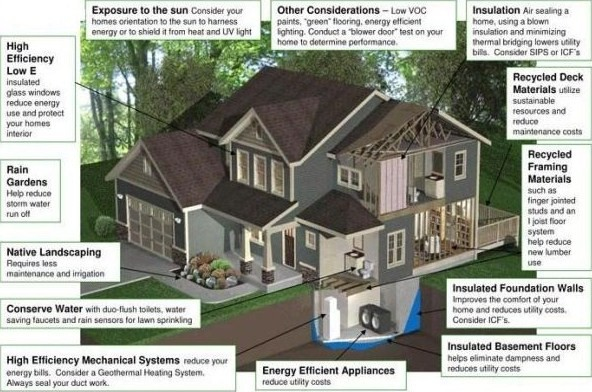 Insulation
The proper insulation product for your custom home project can be one of many, and is a critical element of any green building project.

here are many types of insulation products available here in this region. Good insulation in your home results in much lower energy use by helping you to retain warm air in the winter and fend off heat in the summer.

Heating and cooling will account for 50 - 70% of the energy consumed in an average American home. The proper type and correct installation of insulation within your new custom home project will have a direct impact on your energy consumption.

Energy Efficiency
A custom home could have energy efficient lighting, HVAC systems, and water heating system. Even appliances could have energy star ratings. There are a great many things that can be done to make a custom home more energy efficient. They do not have to include geothermal technology in order to be energy efficient.

Geothermal Systems
The uses of geothermal systems are rising and they can provide heating, cooling, and domestic hot water for your new home. These types of systems often cut operation costs for heating and cooling by 40 - 60%. They require no fossil fuels and have a longer life cycle than conventional systems. There are many grants and tax incentives available for these types of systems.

Click on the geothermal section of our website to learn more details about the various systems available.