Design – Build Your Way
Everything about us is custom, and our way of creating your dream home is just one of the ways that make us unique. The way we operate and the systems we use were created to keep you the Owner in mind and how you need the process to work for you and your family. Every project is unique and has different needs that are important to you, and we understand that from the very start of the process.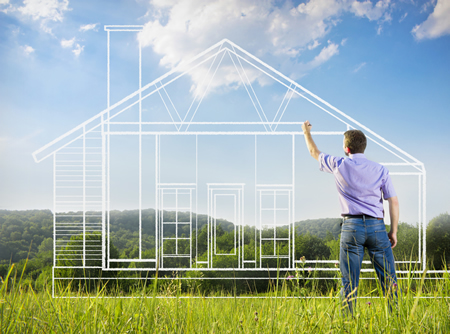 We will listen to your needs and dreams, come to an understanding of what you want for your new custom home, and then create it for you, from start to finish. We can come into your project at any point we are needed and we will create a written plan that becomes a recipe for success.
The report is based solely on your project, and is designed to accomplish the various goals in ways that work for you. A clearly outlined ''Sequence Of Events'' is used to keep things organized and on task.
You may already own a lot and it will have unique characteristics that might need more planning than others. Having us on your side during the planning and design stages can save you time and money down the road. Buying a building lot is also a potentially risky experience and allowing us to perform a feasibility study on the lot is smart business. We can evaluate the entire project and save you from harm in many ways.
The design of both the lot and the house are equally important and these designs must work together in order to create the balance that is needed. Our process allows you to be a part of the entire design process keeping your best interests at heart at all times.
The Lot Design
You Need Site Plans
Every custom home project no matter where it is built, will need a site plan and various other engineered drawings as required by the permitting agencies. You need to be a part of this process and understand what you will be required to do on the lot. Keeping costs under control should be your primary goal.
The Liberty Way means giving you the control over your project from the very start as there will be options to be considered during the site design. You are the Owner and your are the one paying for the improvements on the site plan. Once the plans are approved by the permitting agencies, there will be turning back and no negotiations. The site plan and its contents will become requirements in order to build the house.
The House Design
The Blueprints Are Important
Every custom home project needs detailed blueprints that will be reviewed and approved by the permitting agencies and they are required to have numerous details. Every permitting agency has set requirements and just like the site plan, the approved blueprints become requirements.
The Liberty Way asks you to keep an open mind as we decide upon the best way to reach your goals.
There are several ways of creating a set of blueprints that are created specifically for your custom home. We will look into the most cost effective way of handling this. It may involve the use of ''Stock'' plans from a reputable architect or it may involve the creation of a whole new set of blueprints from a local architect. We may even use several different house plans as the basis for creating our own custom design.
Regardless as to the method we select, you the Owner will make all of the decisions as we will work with you to keep you informed at all times. Giving you the various pieces of information you need will help you to make sound decisions. Keeping costs in mind during this design phase is extremely important and will make or break the project.
The Permitting Process
We Work For You
The permitting agencies will send back comments about your project in the form of requirements that you will be required to follow. Everything here costs money and you will need to know when to agree and when to disagree on these comments. By keeping your wishes at heart at all times, we will know when to accept these comments and we will know when to push for different out comes. We will over come every challenge with a high degree of professionalism, as we get around some of the more expensive requirements.
There Are No Standards
You Select Everything From Scratch

We are not production home builders so we do not offer packages. There are no options to chose from as you can select materials from any where you chose, as its all about pleasing you.
As long we work together as a team to stay within your budget, anything is possible. We will direct you to vendors we have used in the past that offer our clients great pricing and service.
We will also work with those vendors with whom you bring into the project, as every home we build is a team work effort.

We will also allow you to participate in the selection of the various subcontractors that we will use on your project. You can help us to select them and you have the right to approve them.

You can bring new subcontractors into the project or you can approve the use of those we have used in the past. We know of no other custom home builders in this region that offer such services.