We are excited to announce that we are in the final phases of completing what we believe, is another award winning custom home project. Sitting on a heavily wooded 5 acre lot in an area called the ''Moyaone'' the Federal Protected Forest Area of Accokeek, Maryland. After an extensive effort to get a permit, we broke ground several months ago and the project has been a blast to build!
This custom home is truly one of a kind, with its 20 ft high ceilings, its post and beam construction, and true Mahogany frame windows. The project will be a retirement home for a wonderful lady!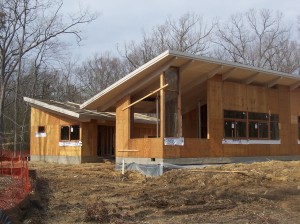 The Architect is Mr. Evan Mathison from the firm of, Maryann Thompson Architects, located in Cambridge, MA.